MESS is pleased to announce that we have begun what (we hope) will be an annual residency program for local artists. Our inaugural residency has been generously supported by the City of Melbourne. The MESS residency aims to select two active electronic sound and music artists whose careers stand in contrast to each other. Our first two residents are Chiara Kickdrum and David Chesworth and both of these artists will be presenting the outcomes of their MESS residencies in a series of workshops and a performance in late 2017/early 2018.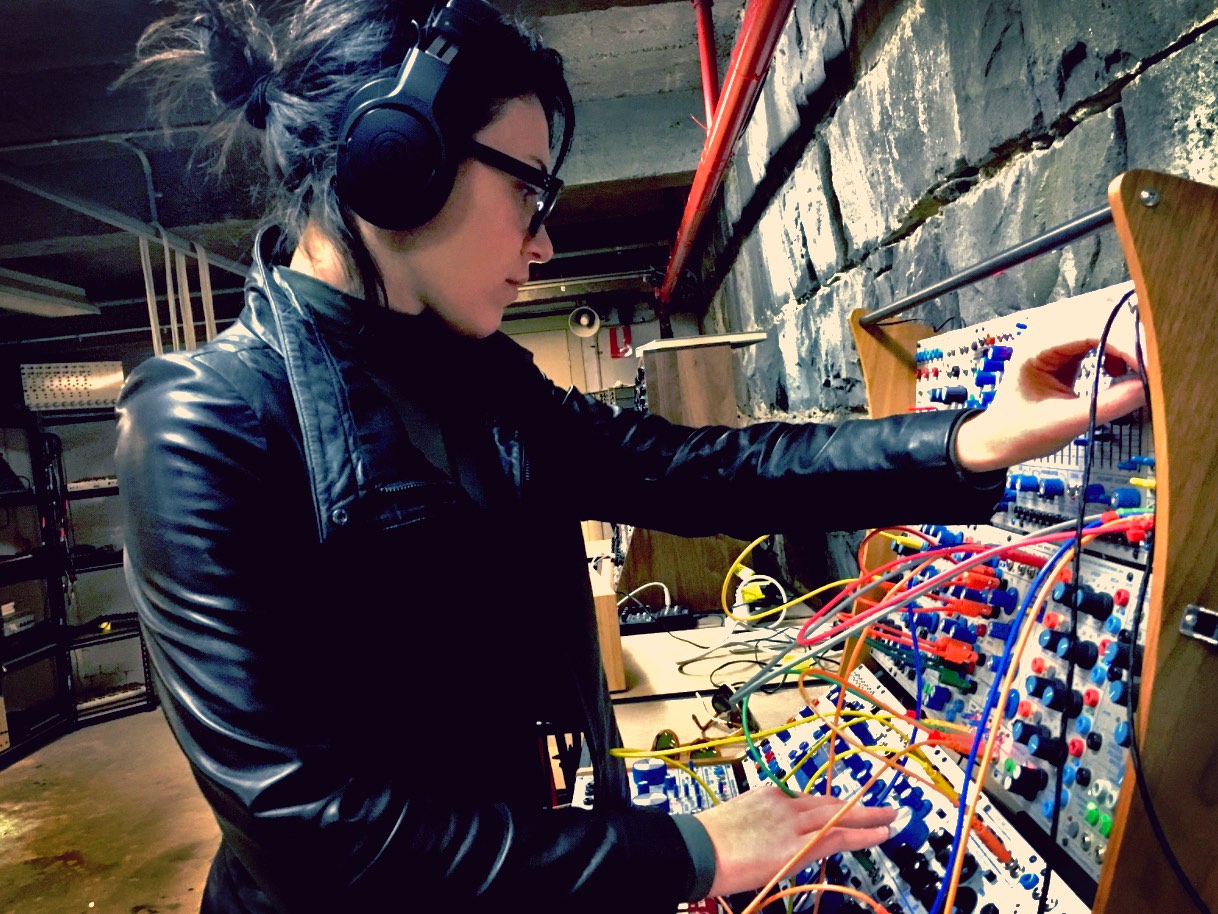 The inimitable Chiara Costanza (aka Chiara Kickdrum) will be working at MESS for six weeks. Chiara is a musical chameleon. MESS co-director Robin Fox was lucky enough to get some conversation time in and ask Chiara a few questions about her journey into electronic music, where she's at and where she's headed.
RF: You've mentioned your love of the raw Detroit electro sound. Do you remember your first contact with it?

CK: Yes I do! I had just moved to Australia (so twelve years ago) and I remember being alone at my ex-boyfriend's place. He had gone to work and I just started listening to some of his records and ended up listening for days. It was amazing. I discovered Carl Craig and then Drexciya and I was like hmmm I've never heard of electro…..and even though I'd heard 'techno' I felt like I was hearing the real thing for the first time.

RF: As you say that was twelve years ago, what about before that then. Had you had any real contact with electronic music?

CK: No not really

RF: I understand that you play the piano right?

CK: Yes, so I was playing Jazz and lots of classical music as well as keyboards in metal and death metal bands.

RF: Keyboards in a death metal band??

CK: (laughs) yeah it was a crazy time.

RF: Do you have any recordings of that stuff?

CK: I think I have some VHS tapes somewhere…..Do you know Deep Purple?

RF: Yes

CK: Do you know Glenn Hughes?

RF: No

CK: Ok, well he was one of Deep Purple's singers for a few years from '73 to '76 or something like that, and we had a cover band that only did Deep Purple tracks from the Glenn Hughes period. I played keys and sang because Glenn Hughes has a really high voice!
RF: Hilarious! Was this in Italy?

CK: Yes, I grew up in a little town called Chieri which is just outside of Torino. I went to Torino all the time. I studied music there, classical music, for three years.

RF: For most people who will read this you are commonly associated with electronic music and techno, do you still have a fondness for classical music? Jazz?

CK: I loooooove classical music, absolutely. I don't play it anymore. I don't have a piano at the moment. It's definitely in my plan to get a hold of one again. I really miss playing that music.

RF: Favourites from the classical repertoire?

CK: I love playing Bach. I hated it initially, but the thing with Bach is that it's AMAZING when you're good at it. Hahaha. And in terms of Jazz I really loved Bill Evans from a pianistic point of view but also Coltrane, Miles Davis, all that stuff.

RF: Did you ever get into the more angular pianists? Thelonious Monk for example?

CK: Yeah I did, I can listen to it a bit, and play a bit, but it didn't grab me as much as others. I also went through a fusion phase (we both laugh about the dangers of admitting any connection to such a maligned genre) and a prog phase, early Dream Theater etc.

RF: And Metal? How hard did you go there?

CK: Pretty hard actually. I loved bands like Sinister. I would lock myself in my room, dressed all in black, and just disappear into the music. It was a sanctuary. I was in bands and we would rehearse every week, play in pubs etc. My parents were a bit confused about it I guess but then I would come out and play the piano so there was a balance there. A bit bi-polar I guess.

RF: Sounds like a musical house were your parents musical?

CK: My dad no, my mum likes to sing, my brother has talent but never pursued it.
"I thought ok I need to learn how to make this music. So I left my high-powered job in the city, I just couldn't do that anymore. I needed to reconnect with music."
RF: When did you know that it was music that you wanted to pursue?

CK: Ever since I was 5 years old actually. I always loved to sing and entered competitions etc.

RF: Did you go through a period, as so many artists do, where you second guessed that feeling and decided to do something else? To 'normalise'?

CK: Yes, 12 years ago when I moved here I started going out a lot and lost contact with music making for a while. I got a job.
RF: Was that a conscious decision?

CK: I think I've always put so much effort into my music. When I was 10 years old I didn't want to play the piano. I really wanted to sing! I didn't like applying myself and doing the hard work. My dad really encouraged me but I felt like it had become a burden. So when I came here it felt a bit like a liberation – I walked away from it all for a while.

RF: So the classic question now is…..how did you come back from that feeling and end up playing big stages at festivals? What's the secret formula?

CK: Well, I started to DJ, just put on a party with a friend. I was collecting records at that stage. That was 5 years ago so it was a 7 year break from performing. I also did a sound art course at RMIT in 2010. I thought ok I need to learn how to make this music. So I left my high-powered job in the city, I just couldn't do that anymore. I needed to reconnect with music.

RF: But not the classical, jazz, metal?

CK: No, I wanted to make electronic music.
"...the feeling of playing machines live was a buzz. I thought I could really do something with the format."
RF: You started DJ'ing and while a creative process, is more about curating and organising tracks rather than actually creating them, but I remember when we first met a few years ago that you really wanted to play your own music and do that live. So how did you make that transition?

CK: It happened by chance actually! I was playing with a couple of friends at RMIT. I bought an Elektron Machinedrum from Phoebe Kiddo who was moving overseas and I thought – wow – this is the best thing in the world – I'm never going back! And so I started playing some very small shows. Then Kevin Karlberg (aka Stable Music) was putting together a bill featuring Clark (Warp label) in 2012 and he said "OK – Chiara Kickdrum live – in two weeks! After Clark!" And I thought no way! But I ended up doing it – it was a great experience! Most people left (laughs), it was not an amazing set, it was interesting though and the feeling of playing machines live was a buzz. I thought I could really do something with the format.

RF: Well two weeks isn't a lot of time to forge a musical identity and make 2 hours of great material! It's a big ask.

CK: Exactly! But it opened my mind to the possibilities of live performance and broke the sense that it was an impossible dream. And then the gigs just followed. People heard the sets and just got in touch. Some people wonder how I can play so much when I've only been working for four years. Some people put on parties just so they can play, so I feel very lucky. But at the same time I work really hard and I take what I do seriously. For me it is a profession. It's fun sure, but a lot of the time I don't go out I stay home and make music. This is what I want to do.

RF: Well that commitment should come across in the music. I've been thinking about my own output lately as a professional musician / composer and it occurred to me recently that I make a lot of terrible music on the way to finding the good stuff. It's sort of a barrier that needs to be broken. Do you make a lot of music that you don't like? That you would never play anyone?

CK: Ha Yes! And I feel like I'm hardly ever satisfied with the results even of the stuff that I make public. I listen to a lot of music for inspiration and I'm always struck by new things that I want to try. When I'm making tracks I feel sometimes too close to them as well. Like I can't really judge them properly. Every now and then I'll hear something I made years ago and get a pleasant surprise, sort of like I'm hearing it for the first time.

RF: Now every gig is a deadline, which is a good and bad thing right? You're playing so much at the moment, have you ever had a moment where you're on stage, you start a track and realise 'oh no….this just doesn't work!'?

CK: Ha! Yes, a couple of weeks ago in Auckland….I started a track….the drums were all over the place….nothing worked, so I just had to move on. Keep a straight face haha.

RF: So what's your relationship with the audience? Some performers introvert onstage, go into their own world and others revel in the dialogue. Where do you sit?

CK: Well, it's different when I DJ and when I perform live. When I DJ I go crazy! The Italian in me just comes out (laughs). It's a bit more relaxing in the sense that you put on a track and have time to consider the next move. Playing live has a different energy. I arrived at Meredith recently and saw this massive crowd and thought 'fuck – are they going to like it?' which shouldn't really matter but it does! And the fear of making a mistake is much higher! In that context I get introverted. I go back to my bedroom in my mind.

RF: And was that the biggest show you've done?

CK: Yes, and it was so great to get all that feedback on my original music. So much more satisfying than someone saying 'I loved your DJ mix last night' blah blah.

RF: Finally, tell me what you hope to get out of your residency here at MESS?

CK: Well it's a great opportunity to use all of these amazing machines. I just want to immerse myself in them and create a lot of interesting music. I'd love to do a drum machine survey. Try them all out and assess them. I've been wanting to explore more effects so the moogerfooger pedals are appealing as well. The Buchla fascinates me so I want to see where I can take that.

RF: And the future?

CK: Basically I want to travel the world playing my music, meeting amazing people and having a good time.

RF: Sounds perfect! Hopefully the residency is a step in the right direction!